You may also be interested in these products

SCRAPE-A-BOWL
Can you improve the performance of your KitchenAid brand stand mixer? YES you can!
Revolutionary NEW flat beater design for your planetary action stand mixer that continuously scrapes the sides of your bowl while you mix your ingredients. Angled crossbars "FOLD" your ingredients, rather than stirring, for a more thorough mixing.
Use your NEW Scrape-A-Bowl for: Cakes, Biscuits, Cookies, Mashed Potatoes, Pie Pastry, Meat Loaf, Quick Breads, Candies, Creamed Frostings
Do not use for heavy mixing such as: Breads, Coffee Cakes, Rolls, Buns
Note: Each Scrape-A-Bowl is specific to each size KitchenAid Stand Mixer. It is necessary to match the Scrape-A-Bowl to the size of your Stand Mixer.
EFFICIENT - Full contact beater for 100% effortless mixing.
CONVENIENT - No more lifting the mixer head to manually scrape the sides of the bowl.
QUICKER - Improved beater design mixes in half the time.
NO MESS - Your hands stay out of the bowl and batter.
SCRAPE-A-BOWL models:
Click below on the models to see which size fits your machine
4.5qt Tilt Head / 5045, 5qt Tilt Head / 5050, 5qt Bowl Lift / 5054, 6qt Bowl Lift / 5056
4.5qt Tilt Head

We didn't invent the stand mixer, we improved it!
KitchenAid - Fits 4.5qt tilt head machines; Models are also know as Ultra Power and Classic on the motor head. Model numbers can be found on the bottom of your mixing bowl or on the underside of the machine.
Test Results confirm that the use of Scrape-A-Bowl will not harm, strain, or cause the KitchenAid motor to overheat
Does not fit Accolade models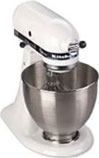 Fits KitchenAid Models:
K4SS
K45
K4SSS
KSM75
KSM90
KSM95
KSM100
KSM110
KSM450
5qt Tilt Head

We didn't invent the stand mixer, we improved it!
KitchenAid - Fits 5.0qt tilt head machines. These models are known as Artisan on the side of the motor head. Model numbers can be found on the bottom of your mixing bowl or on the underside of the machine.
Test Results confirm that the use of Scrape-A-Bowl will not harm, strain, or cause the KitchenAid motor to overheat

Fits KitchenAid Models:
KSM150
KSM151
KSM152
KN15E1X
5qt Bowl Lift

We didn't invent the stand mixer, we improved it!
KitchenAid - Fits 5qt Bowl Lift. These models are known as the Pro 5 on the side of the motor head. Model numbers can be found on the bottom of your mixing bowl or on the underside of the machine.
Test Results confirm that the use of Scrape-A-Bowl will not harm, strain, or cause the KitchenAid motor to overheat

Fits KitchenAid Models:
K5SS
KSM5
KP50PS
KSM50HDP
KSM500
KSMC50
KV25G0X
KV25G8X
KV25HOX
KG25HOX
KG25H3X
KG25H7X
KM25G0X
6qt Bowl Lift

We didn't invent the stand mixer, we improved it!
KitchenAid - Fits 6qt Bowl Lift. These models are known as Pro 6 on the side of the motor head. Model numbers can be found on the bottom of your mixing bowl or on the underside of the machine.
Test Results confirm that the use of Scrape-A-Bowl will not harm, strain, or cause the KitchenAid motor to overheat

Fits KitchenAid Models:
KD2661X
KP2671X
KP26M1X
KP26M8X
KB26G1X
KL26M1X
KT2651X
KP26N9X
Colors: click to choose color
Error connecting to mysql